Get Creative with iConnectWith Glitter
• Christmas trees • glitter • glitter trees
This is such an easy project, but it packs a lot of holiday sparkle. Perfect for your holiday table...make a whole set of glitter trees for your holiday mantel! Here's a few glitter color combinations you could use: champagne gold extra fine & stubby ruby red extra fine & stubby emerald green extra fine & chubby silver extra fine & stubby These DIY trees are so easy to do with just a few simple steps. Use whatever color glitter you want, and mix and match for some festive DIY Christmas décor! Line your workspace with a drop cloth or newspaper....
---
• embellishment • foils • gilding • metallic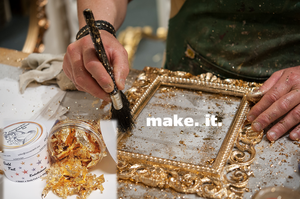 We've got the flakes - you supply the creativity! You can put gold leaf on glass, wood, ceramic, stone, marble, tile, almost anything! Gilding flakes work with a tacky surface; if you can make a surface tacky, then you can apply gilding flakes. Allow your glue to dry until it is sticky to the touch. Use your finger or a dry foam brush to apply the flakes. Double-sided tape or adhesive paper is also a great way to apply gilding flakes.
---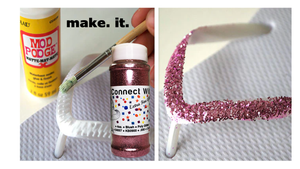 Paint a thin layer of Mod Podge® or glue to the straps; sprinkle on the glitter. Dust off the excess and allow them to dry for at least one hour. Then add another layer of Mod Podge® to seal in the glitter; let dry for another hour before wearing. Match your glitter color to your toenail polish! Your feet will look fabulous!
---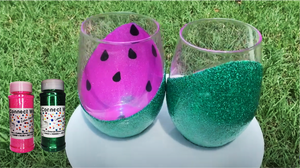 These "watermelon" glitter glasses are just perfect for a cool summer drink! Use our Cotton Candy Pink and Emerald Green Extra Fine glitters to make them. Here's a super tutorial - easy instructions, great visuals, and so much fun! https://youtu.be/fZ1_nkhfgIw
---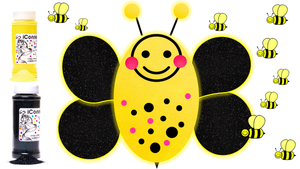 Have some fun with bees - guaranteed never to sting! Let your kiddos make some cute bumble bees with our Sunshine Yellow and Black Pearl glitters.